The singer isn't going to be forgetting her very fervent followers now is she? Of course not! Lady GaGa recently came forward for her adoring fans with details about her next tour. This is what she had to say: "I do have plans, it will be at the top of next year but I have to begin rehearsing by the end of this year. That's what I do. It's time for another marathon. If you're running a marathon, and you're about to cross the finish line, you don't stop and say, 'Oh, once I cross it, it's over.' You run as fast as you can to get there as quickly as you can. So I guess, for me, it's about how many marathons can I run? How many dreams can I make true? Now, not for me, but for my fans." Lady GaGa's speech was probably a bit more metaphoric than what most of her fans might have been wishing for, but it looks like that's her new thing nowadays. Still, there's optimism and there's care for the fans so what more could anyone need?
Kylie Minogue thinks that her latest concert tour "Aphrodite: Les Folies Tour" would translate well on a more permanent basis on a Las Vegas stage and it is being said that the Australian pop singer is considering a residency in Sin City. Kylie recently said "I've got my Las Vegas show right here. We've been talking about it so if I do a residency I definitely have the show for it. It's crazy. I definitely can't top this one. I'm so pleased with it. I didn't have anybody backstage shouting in my earpiece to say, 'This isn't working,' or, 'Scrap this section.' A lot has been made of the splash zone but there's a lot more to the show than just water. It's important to have moments when the music takes over." I think she can make it in Vegas. I'd definitely go and see her.
Given the controversies that surround Adam Lambert's upcoming concert in Malaysia, or anywhere else, for that matter, the singer has decided to take it easier, especially when it comes to performing in another country. The Malaysian government has instituted a few rules for Adam Lambert in his concert and the singer is apparently going to follow them out of respect. So there won't be any more striping, kissing and whatnot… just plain, old' fashioned singing. Let's see how that concert's going to sell. Adam Lambert may be an accomplished musician, but his show might not prove to be all that spectacular if all of the rules force him to tone down.
Lilith Fair may not have done so well in the US but organizers are still continuing their tour in Australia this October as a Taste of Lilith with shows in Sydney, Perth, Adelaide, Melbourne and Brisbane. Sarah McLachlan, Court Yard Hounds and Kate Miller-Heidke and the Verses will be doing the concerts. However, the ticket prices are still soaring at $149 and $222 in Australia. That's pretty steep especially considering that's why many people didn't show up to the shows in the US. However, you do have to consider that a portion of the ticket sales go to charity, so have a heart and watch the show.
Madonna is not even close to retiring, on the contrary, the artist is planning an impressive tour for next autumn, announced The Mirror. It seems that Madonna is not tired after her recent "Sticky and Sweet" tour. In spite of the rumors saying that Madonna will take a two year break, she is already preparing for her next tour. The new tour does not have a name yet, but it is part of the contract Madonna signed with Live Nation, and it is expected to generate a 100 million dollar income.
You would expect that a singer of 63 would resign herself to Caesar's Palace for the rest of her working career… even if that singer is Cher. But you would be wrong. It looks like after Cher's contract at Caesar's Palace in Las Vegas ends, the singer is planning on doing another tour. And that's not too far away so the world will get yet another chance to see how young Cher looks for her age. Still, you have to wonder how she can keep that up and what's even more fascinating is asking where, when and most especially how it's all going to fall apart. But until that day comes, to the ticket booths!
On Sunday, Pink performed her final show of her Funhouse world tour in Germany. To celebrate the milestone, her hubby Carey Hart decided to surprise the singer on stage. While in the middle of performing the song 'So What', Carey came rushing out and gave Pink a big kiss, only to have her dancers strip him down to his underwear. And never to be one to not join in on the fun, Pink straddled her hubby on the bed prop for all of Germany to see. That's love right there! I think that it was Carey that got the bigger surprise there.
The famous singer is going to go on a tour of the United Kingdom soon, a place she has not been to on tour for about a decade now. Whitney Houston said the following about her upcoming tour: "This is my first full tour since the 'My Love Is Your Love' tour in 1999 and I am so excited to be performing for my fans around the world after all this time. I am putting together a great show and cannot wait to perform the songs from my new album 'I Look to You' along with some of your favorites." This statement really sounds a lot like one of those old "Uncle Sam wants you!" recruiting posters. Well, Whitney Houston will probably get her wish in regards to the UK… people there are always hungry for another fresh American act every once in a while.
U2 Releases New Video Clips from 360° Tour
U2 kicked off the North American leg of their 360° Tour on September 13th, and cameras have been rolling during the shows and behind the scenes. Visit the official U2 YouTube channel to see video clips of songs from the concert, including "Your Blue Room" and "Vertigo" from the Chicago shows, a radio interview in Toronto, and an advance screening of an exclusive U2.com chat with the Edge.
Can't get enough live U2? Download the new Blackberry app that lets you get inside the new album No Line On The Horizon. The app features song previews, news, tour updates, exclusive images of the band in the recording studio and on the road, and more! Find out the specifics on the Blackberry website.
No Line On The Horizon is U2′s twelfth studio album and is available now, in stores or through iTunes.
Vertigo Link and Embed Code: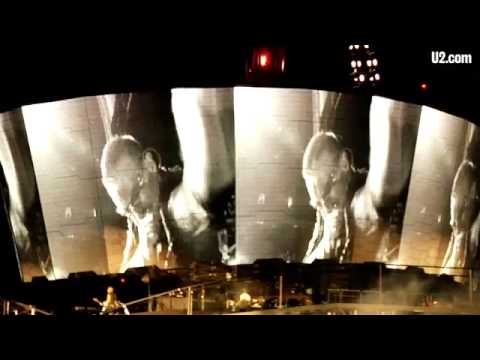 Your Blue Room Link and Embed Code: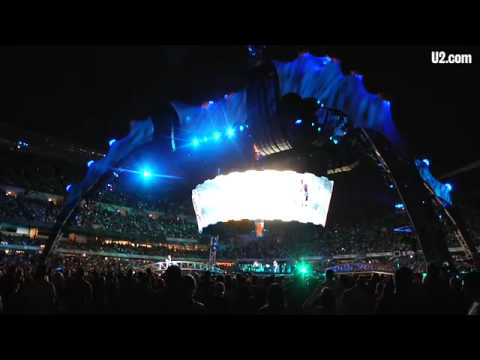 Toronto Radio Interview Link and Embed Code: