Jonas Brothers "Keep It Real" Music Video
From The New Album Lines, Vines and Trying Times
Featuring Footage From JONAS
Jonas Brothers – Keep It Real: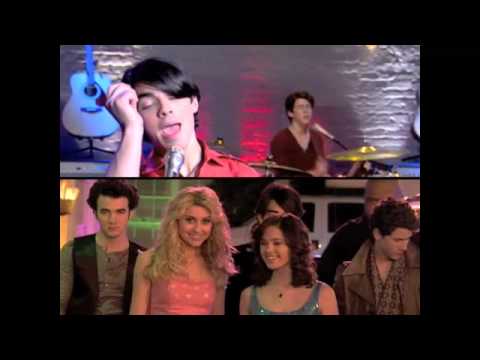 Nick, Kevin and Joe posed for photographers at the 2009 Kids' Choice Awards, held at UCLA's Pauley Pavilion on Saturday night (March 28) in Westwood, Calif.
The brothers took over Radio Disney on Friday afternoon when they put on an acoustic performance.
They had this to say about their upcoming tour:
"We've got new songs, new production elements and new instruments as well. In this new record, we tried to add some different sounds. We've been working a lot with horns. After we did the Grammy performance with Stevie Wonder, we had the five horn players behind us. We were like, 'We should do this to our music and add this different sound to it.' We incorporated it in our record and we'll be playing with them this summer!"
Apparently there is a bit of hissing going on by parents about the Pussycat Dolls and whether they should have even been on the KCAs at all. Many felt that they're not kid appropriate. I've read several blogs and am stunned at how many have been complainting about how provocatively they were dressed.
Miley Cyrus describes her pre-teen years as "friendless, lonely and miserable" in her new memoir, "Miley Cyrus: Miles To Go." Like so many other young people, it seems as if she had some very difficult times at school. I've known people who have been bullied to a point they've had to change schools. I've had friends and family members miss days, weeks, even have to resort to home schooling. 21st century bullies will kick your a** because there is literally no where to hide as the internet is a major tool of torture as well.
Here are some excerpts from her new book via Acccess Hollywood:
On the haters during her pre-teen Tennessee school days: "The girls took it beyond normal bullying. These were big, tough girls [known as] the Anti-Miley Club. I was scrawny and short. They were fully capable of doing me bodily harm… [They locked me in the girl's restroom during class.] They shoved me in. I was trapped. I banged on the door until my fists hurt. Nobody came. I spent what felt like an hour in there, waiting for someone to rescue me, wondering how my life had gotten so messed up."
On being challenged to a fight: "It seemed like Operation Make Miley Miserable was escalating to a new level. More like Operation Take Miley Down. Three girls strutted up and stood towering over me. My stomach churned. I clutched my grilled cheese sandwich like it was the hand of my best friend. It pretty much was my best friend those days. I was done for… They started cussing me and telling me to get up. I sat there, frozen. I didn't know what to do. Finally, I couldn't take it anymore. I wasn't chicken. What could they do to me? I was surrounded by people. I stood up, still a foot shorter then they were, and said, "What's your problem? What did I ever do to you?'"
On ex-boyfriend Nick Jonas, who she refers to as Prince Charming in the book: [When I first met him,] it felt like the whole world stopped. Nothing else mattered. [The day we broke up was] the hardest day ever. Deep down I know we weren't being our best selves. And that was what I wanted — and thought I deserved – in a relationship.
On writing the hit song "7 Things I Hate About You" for Nick: "[I wrote it to] punish him, to get him back for hurting me [but the song is] about forgiving, not forgetting. It's hard to imagine that our love is a story with an end. But you know, at least I'm getting some really good songs out of it."
Miley will be signing copies of her book at Barnes & Noble this Saturday (March 7) @ 12PM at The Grove at Farmers Market (189 Grove Drive, Los Angeles).
Joe and his older brother Kevin Jonas check in at security at LAX airport in Los Angeles this morning.
The brothers, including Nick will be performing along with Demi Lovato and Miley Cyrus at the Kids' Inaugural: We Are The Future celebration, hosted by new First Lady Michelle Obama.
Nick talked to People about what songs he thinks they would be performing. He shared:
"We know Sasha and Malia [Obama] are fans of 'Burning Up,' so we'll be playing that."
Make sure to check out the concert, which will air Monday, January 19th @ 8PM ET/PT on the Disney Channel.
Taylor Swift shared some of her thoughts and experiences about her previous relationships to Prom Magazine for their spring issue. She's also the issue's cover girl.
"I was 15 and the oldest out of all my friends to have not kissed a guy," she tells the magazine. She went on to say that because her first kiss came later to her than the rest of her friends, she doesn't hold back and writes what she thinks and feels:
"I like to write about boys and relationships, I write songs about the things that happen to me, because it helps me figure them out. Writing songs is like breathing for me."
Swift used to date Joe Jonas, of the Jonas Brothers, but these days, one of her celebrity crushes is Gossip Girl's Chace Crawford.
Wonder if he ever hears about this would his people get in contact with her people so that he could ask her out to make her dream come true?!
Nick Jonas took some time off from the set of his new Disney Channel series, JONAS, to tape a Public Service Announcement on Juvenile Diabetes that will air this Sunday, November 2nd after the episode of Jonas Brothers: Living The Dream airing on the Disney Channel. It will share how he (a young teen) manages his own battle with diabetes
EW.com has invested funds on an exclusive look at the new series premiering on the Disney Channel in May 2009. Kevin, who is the oldest brother had this to say about the episode they recently filmed:
"We're trying to cook Mom a special birthday cake. We destroyed our family's home videos, so we have to find ways to make up those memories."
Here's a sweet family shot of Jos Bros at New York City's Yankee Stadium on Sunday afternoon. Supposedly baby bro Frankie aka the Bonus Jonas was there as well. They wanted to meet Derek Jeter
They are no doubt stoked for getting a VMA nomination for Video of the Year but when asked who should win for Video of the Year (other than themselves), Kevin said:
"Chris Brown's 'Forever' …or Britney's 'Piece of Me'. She seems to be having a really great comeback and that's awesome!"
Apparently there is another Jonas brother. His name is Frankie, he is 7 years old, and he is known as the Bonus Jonas. He's adorable. Watch when he makes his MTV debut on "TRL" this week.
When asked how he got his nickname of Bonus Jonas Frankie says:
"Actually, I don't really know [how I got the nickname], it just came up, and people started talking to me and going, 'Hey, Bonus Jonas,' and I was like, 'Hey, whatever.' "
He's a natural in front of the camera, and plans on starting up his own band someday and having his older brothers open up for him! How cute is that?
Here's a great picture of the brothers on the latest issue of Rolling Stone that hits newsstands July 25th. Below is a tidbit from the article on how the guys are dealing with the intense interest on who they are dating:
"I get it," Joe says. "When I was young, I wanted to know what my favorite bands were up toall the time. And it's funny when there's a rumor. It's funny when you find out there are other celebrities with crushes on you, like when I read that Lauren Conrad from The Hills liked me."
No doubt he was referring to the gossip that he's dating country-music singer Taylor Swift, who was seen in the crowd at a Dallas concert and who will appear in the their band's upcoming 3-D movie!
Nick said: "The Kim Kardashian rumor [about me] was hilarious, "I was honored, but I was like, 'Reggie Bush would kill me!'" He went on to talk about his relationship with Miley Cyrus, who helped launch their career when she had them guest star on her show as well as had them open for her on her Best Of Both Worlds Tour:
"There was a point in our lives when we were very close," Nick says softly of the Miley rumors. "We were neighbors when we were on tour together. It was good. Just really close. But it would crack me up — I would read these stories online, people saying things that were completely untrue."
Hmm, those sexy pictures that she took of herself posing and pouting that just surfaced on the net thanks to a hacker that hacked her cell phone were supposedly sent by her to him, makes me wonder what sort of closeness she thought they had going on!